Florence
Colleen and Paul - July 13th, 2007
Thank you, Loretta! We are so happy and today went so beautifully!
Silvia, Elisabeth, Giovanni and our 2 witnesses are such good people and they all made our day so special! We only wish we had the chance to share it with you in person too! Thank you again for making this such an unforgettable and warm experience! We even loved the official who married us Daniele!"
-------------
Thanks for your email. We had a fabulous trip and miss Italy and can't wait to come back. Our wedding was fantastic and we loved every second of it.
We would like to thank you again for all of your help in setting up such an amazing and memorable day!!! All of the people involved (yourself, Sylvia, Elisabett, the violinist, our witnesses and the magistrate) were terrific and all helped to make it a very special event! In fact, we have fond memories of each person that was involved. Everyone went out of their way to welcome, help, support and congratulate us and we were very happy that we could share our day with such amazing people. Regarding the photos, we would of course be happy to allow you to use any of them that you would like for your website.We would also be happy to serve as a reference as needed.
Thanks again for everything, you have been great to work with and made this whole event a great experience!!!
Ciao Paul & Colleen
---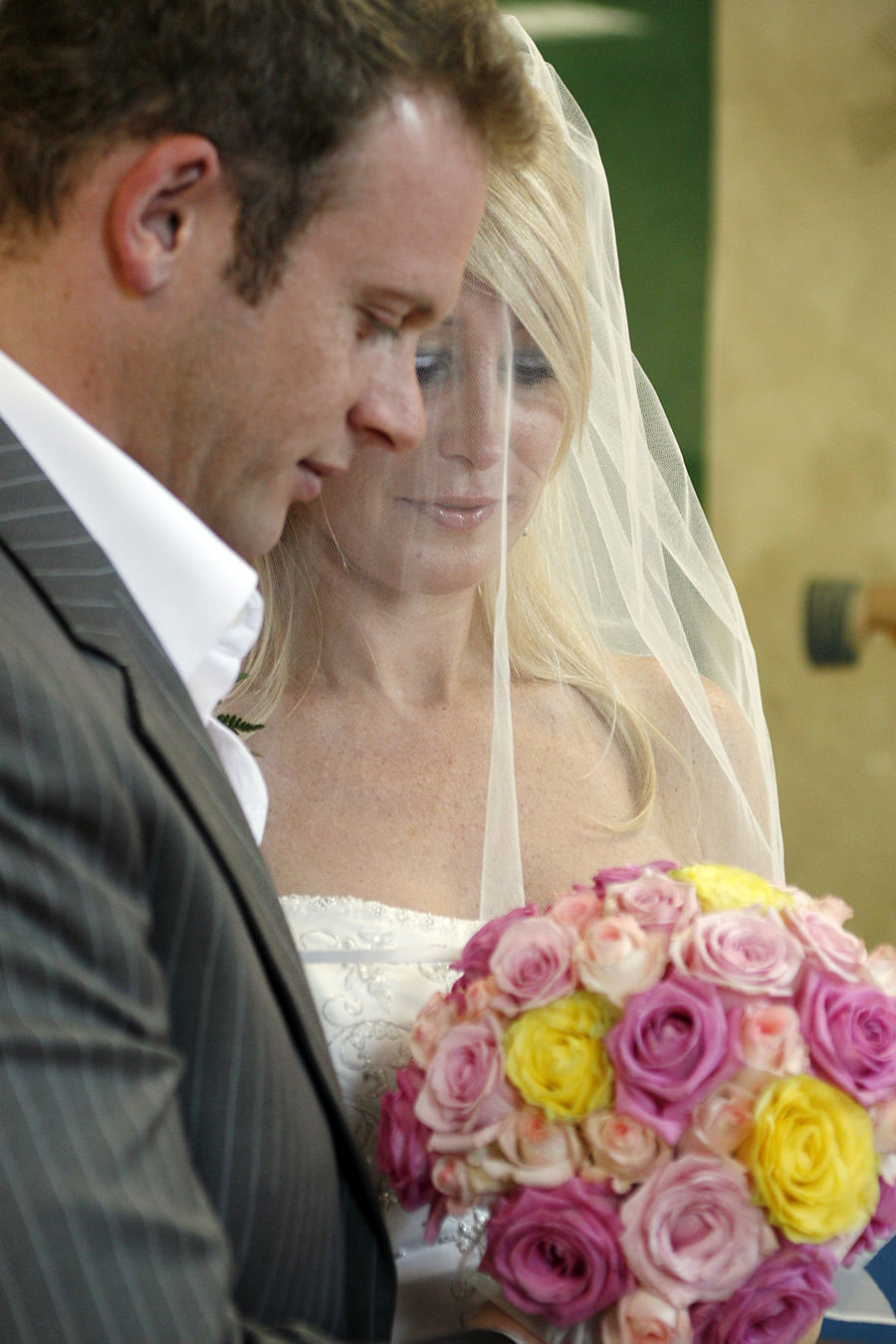 Varenna
Amanda and Derek - July 10th, 2007
Hello Marco and Ilenia,
How are you? We only arrived home yesterday and we are feeling very very jet lagged so i'll keep this particular email very short. I do want to tell you how impressed we were with everything to do with the wedding. I will go into more detail about everything but right now i have just woken again and my mind is not working :-)
--------------------------
Hello Marco and Ilenia,
How are you? i hope you are having a nice summer - it's so cold back in Australia.
I have not heard from the American couple but wanted to let you know that I'd be happy to talk to anyone as we really could not have been happier with every aspect of your service. Can't wait to see the photos now :-)
Amanda & Derek
---
Sorrento
Sorrento Wedding Caren and Barry - June 29th, 2007
Dear Loretta,
Apologies for the delay in writing to you to formally thank you for all your help in ensuring Barry and I had the wedding day we wished for.
Your help in making the bookings and administration before we flew to Italy, made the planning of our Wedding in Sorrento a stress free event- much to the amazement of family and friends! When we arrived in Sorrento, we instantly fell in love with the area. The hotel was beautiful, with a breathtaking view from our balcony. The hotel staff made us welcome and assisted with the final arrangements for our big day.
The Sorrento Cloisters, where we had the wedding ceremony, was the most beautiful and romantic setting for us to make our wedding vows. All our guests said it was just the most perfect setting for such a special day. The guitar and mandolin was a perfect touch - just as you had recommended. The photographer was non intrusive and took a broad range of photographs which suited us.
The ceremony was very intimate although the Cloisters is open to the public to watch throughout. It was informal and personal, whilst being very special. Carmela, RJ coordinator, was just fantastic; we had met her before the ceremony and she certainly played a huge part in making the ceremony so perfect. I would be grateful if you could send us her address so we can thank her personally.
The reception at the hotel was truly amazing, with a perfect sunset over Mount Vesuvius as our back drop and excellent food.
Thank you again for making our wedding such a memorable day and we would gladly recommend your services to other friends considering Italy as a wedding venue.
Caren&Barry
---
Lerici, Italian Riviera
Lerici Wedding Linsay and Simon - June 8th, 2007
Good morning Marco,
Thank you for getting in touch with me, its back to work now which is sad! But we bought our first house as well, we got the keys last weekend which is exciting! I think we will definitely be back for our 1st anniversary all our guests said how beautiful it was and, some have even booked to go back in September including the same hotel!
With regard to feedback from the day it was all perfect, the flowers were just beautiful everyone commented on them, especially the bouquet for the ceremony. Everything flowed perfectly, the whole day was magical thank you for all your coordination it was a beautiful day – and the sun shone bright and hot!
The ceremony was perfect, not to long as it was very hot up there! At the ceremony we signed (along with our witnesses) 2 certificates, do I get a copy of them? Or is the wedding certificate the large paper where the registrar had written a poem on the back? Also our birth certificates that we sent how do we get those back?
The car was on time, the boat trip was spectacular (very windy!!) and it was wonderful walking up to the restaurant with the people sat in the cafes cheering us. The service at the restaurant could not be faulted nothing was a problem for Marco, he went out his way to help us, as we had 2 extra guests on the boat that were not meant to be on the boat and we knew the restaurant would was full but it was not a problem for him.
All I can say is that we cannot thank you enough for all your organizing, the options you gave us at every stage nothing you worked very hard to help us, and it was so good that you to meet you on the day – THANK YOU!!
Linsay and Simon
---
Certaldo
Sally and Richard - June 1st, 2007
Hi Michela,
Sorry about the delay but I have had trouble sending you any photographs through my old e-mail address so am trying this one. We are back home and settled into married life.
We had the most wonderful wedding day, it was absolutley perfect. From the setting, the ceremony, the beatiful music (a great recommendation) through to the reception at the former monastery now restaurant, everything was just as we would have wished. All of our friends and family thoroughly enjoyed it and many of them wish to return to Certaldo. Richard and I will definitely be back as for us it is a dream place.
We enjoyed our honeymoon in Sestri Levante and Rapallo and visited many of the places you suggested. We particularly liked Camogli and travelled all over by boat and train.
Thank you so much for all your time and patience arranging everything for us. We would not hesitate in recommending your servies to other couples.
Many thanks for helping make our wedding one none of us will ever forget. Kindest regards Sally and Richard
---
Cagliari
Katherine and Stephen - May 31th, 2007
Hi Ilenia,
Sorry I haven't been in touch sooner - time is just flying by! I can't believe it was three weeks ago that we got married.
Anyway, I just wanted to say a huge thank you to yourself and Marco for all the help you gave us with planning our day. Everything worked out really well, and we had a fantastic time. The translator, the flowers, the music, the photographer - everything we had discussed happened as planned & there were no problems at all, so I can only thank you for organising it all so professionally.
Steve and I were just able to relax and enjoy our day, and now have so many happy memories to look back on! Sardinia was a perfect choice for us - I'd definitely recommend it as a location for a wedding.
I'll attach a couple of photos for you, just to give you an idea of our day (the first one is with our daughter Charlotte, and the second one was taken on the beach in the evening when we'd got to the resort we were going to be staying at.)
Thank you again for all your help, and for being so nice when I had lots of questions for you to answer - it made planning our wedding fun! Good luck with all your future weddings, please keep in touch if you get time.
Love from,
Katherine xx
---
Lucca
Charlotte and Steven - May 31st, 2007
Michela
We had an absolutely perfect day in Lucca! Everything ran so smoothly.All of our guests said it was the most beautiful wedding they had ever been to. And walking through the streets with my dad & my bridesmaid to meet steven & the guests at the wedding hall was amazing! The people of Lucca are so friendly, they were coming out of the shops to congratulate me & passers-by were wishing me luck....even a nun said congratulations! (A very good sign I think!).
When we arrived at the wedding hall we were blown away. It was so beautiful! And the service was beautiful, the vows were so modern and reflective of modern lives. We vowed to not only have a commitment to eachother but also to when we have children and their needs. I have to say that at one point there wasn't a dry eye in the room!!
Thank you for helping us have the most perfect wedding day! A complete once in a lifetime experience!!! Charlotte and Steven
---
Alghero
Julia and Guy - May 30th, 2007
Hi Michela
We are now home and back to work after a wonderful wedding and honeymoon in Sardinia. Everything was perfect and the whole day and holiday were fantastic. We loved the Island and want to go back again soon! Alghero town is a beautiful place to get married. The old town is quaint and the restaurants wonderful. The wedding hall was grand and ornate and the people all friendly and welcoming.
Thank you so much for all your work and help in planning our special day. Yourself and everyone that we have dealt with has been friendly and efficeint and helped to make our wedding day perfect.
Francesco was great and really put us at ease. Our photos are a beautiful reminder of a wonderful day. Of course we are more than happy for you to use them on your website and we would also be happy to act as references for your service and Alghero to any other couples hoping to marry there.
So thank you once again for your help and friendship over the past months. You have such a lovley job helping couples to marry in a beautiful country!
All our love and best wishes
Julia and Guy
---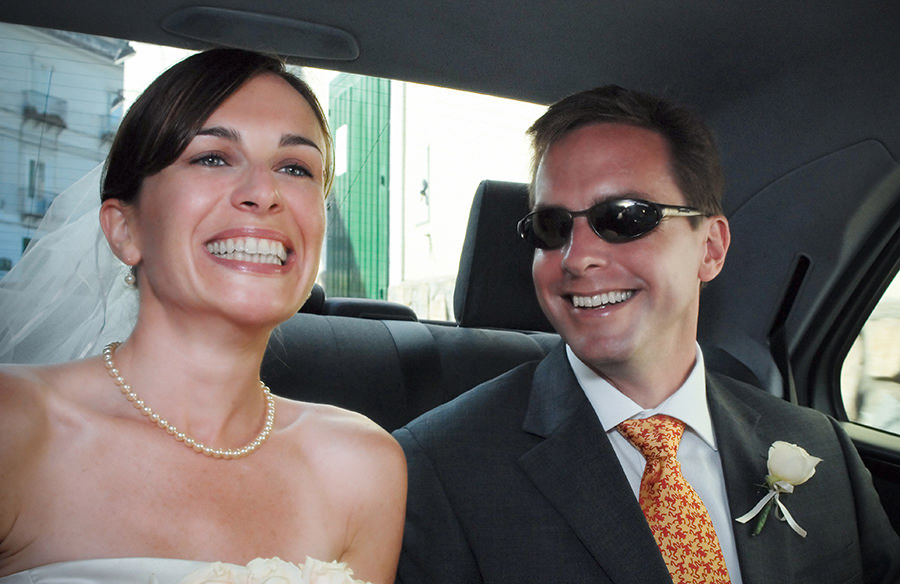 Positano
Katie and David - May 14, 2007
Hi Loretta
We just got back from our honeymoon in Italy and wanted to write to thank you for your excellent service - and that of the hotel and the photographers. The food and service was excellent and the room looked beautiful. The photographers were unimposing and friendly - perferct. The flowers, music and car service were all also great - as was Giovanna the interpretor. Everyone of them exceded our expectations!
We have one last request - and that is if you could ask Giovanna for the text she read out during the ceremony. It was really nice - and I think I only heard half of it I was so nervous!
Many thanks again for arranging a great day.
Kind regards Katie and David
---
Ravello
Amanda and Ian - May 5th, 2007
Hi Michela and Ilenia! Well what can I say! We had the most AMAZING time in Ravello everything was just perfect. Ravello was everything we had dreamed of and more.
The wedding service itself was intimate and personal. Everything was well organised and I was made to feel so special. I loved the service it was warm, memorable and there were lots of tears and laughter. The harpist music really finished everything off. We were delighted to receive the special Ravello book from the town hall. We will treasure this and the memory of the day forever.
The flowers were just as I imagined and really looked good with my dress. We were really impressed with the photographer too. He was so patient and really knew the area and was able to get us in the best locations. The mixture of black and white and colour shots is just the best. My pictures really capture all the wonderful memories we have of the day. He took all the shots we requested and more!
The hotelwas wonderful. From the moment we arrived we were made to feel so special. It was a lovely location too. We could not believe the size of our suite and the view from the balcony took our breath away. The staff were wonderful and so helpful and attentive. I would like to say a special thank you to Marzia and Tina for being so helpful and in control. I didn't have anything to do apart from enjoy our big day and chat with friends and family. When we got back to the hotel we could not believe how lovely the reception on the balcony looked. The table had been decorated with ribbons that I had given the staff and they got some flowers to place in the centre. The attention to detail was amazing. My guests were outstanded at the view. It was like we were in heaven. The food was just amazing. The lobster was a clear favourite. The staff were really attentive and friendly even helped keep the children amused! Our wedding cake was unbelievable. I have never seen a prettier cake it was so nice and tasted lovely.
Since I have been back our guests have commented on how perfect the wedding was and truly it was. It was like a dream. All of guests had a great time and many are planning on returning to Ravello. Coming back to work has been a big shock after such a long honeymoon (3 weeks!). We had our honeymoon in Italy and thought it was such a lovely country. We loved every minute.
We would of course recommend R+J to anybody that was thinking of getting married abroad. We are more than happy for you to use as testimonials and use any pictures you like on the website. THANK-YOU-THANK-YOU for everything R+J have done to make everything so special. You've have been brilliant in all aspects- keeping me in the loop and providing advice. Your recommendations made everything happen.
Ian and I wish you every success. Lots of love Amanda and Ian
---
Rome
Virag and Chris - April 16th, 2007
Hi Loretta!
Sorry for the late reply - things have been crazy - we are now planning a reception back here for extended family, so it's like a whole other wedding!
Chris and I had a great time. All of the locations we went to were beautiful (which we expected). Everything came together so well for the wedding day, and I want to thank you and Daniela for that. She was a great person to have there to guide us through everything.
Luca was wonderful; we had such a fun time with him. We received the wonderful photos in the mail and we love love love them. We are so happy. The footage is great too. Our home reception is this weekend and we cannot wait to share them with everyone! Please tell Luca and Daniela thanks! We had such a great time with both of them!
Love, Virag and Chris
---
Siena
Cindy and Kenneth - March 7th, 2007
Hi Marco!
We definitely miss Italy, we had a fabulous time there and I was overly impressed at how nice and friendly the "Italians" are. I would love to retire there one day! We were able to visit Siena, Florence, Pisa & Rome just wish we would have had more time!
Everything was just perfect. Our interpreters, photographer & florist were great! Everything was much smoother in Italy than it was over here getting all our paper work prepared at the Italian Consulate! Thanks to us hiring you, everything was perfect! We have our pictures and marriage license.
We went to Da Divo (in Siena) for our reception and it was really nice...excellent choice!
Thank you again!!! Cindy and Kenneth
---
Taormina
Penelope and Ben - February 21st, 2007
Hi Ilenia
We are all fine and settling in to married life. WE have bought a new house! It is beautiful.
Our wedding was so romantic. Walking through Taormina holding hands and getting our photograph taken was so exciting. There were lots of people wishing us well and saying how beautiful we looked. We will go back one day for an anniversary!!
We received our wedding photos today and they are beautiful - we love them.
Yhank you again and take care
Penny and Ben