Sanremo
Megan and Peter - October 8th, 2005
"Hi Loretta Just a quick note to say how much we appreciated your assistance in organizing our wedding. It was a fantastic week for us and the wedding day and night was sublime. Everything was absolutely perfect and we cant believe that you made it possible on such short notice. The photographer was professional and the photos are awesome. The San Remo Villa Zirio was really amazing both in the gardens and in the actual ceremony room. As you will see from the photos the weather in October was perfect for the occasion! Thanks again
Megan and Peter"
---
Ravello
Gail and Andrew - September 23th, 2005
"Hello Michela, my friend, how are you? It feels funny emailing you now the wedding is over but still we will be friends I hope. My wedding day was perfect, the best day of my life and I believe my new "husband" would tell you the same. We are so SO happy and in love and thank you so much for all your help, we couldn't have made it happen so beautifully without you.! You were my guardian angel.! Anyway, of course we would be happy to be a reference and speak highly of your services (especially you.!). Just let me know what you need us to do and we'll go from there. Now they are out of the way I would like to say that all the services you recommended were brilliant, the bouquet I had was so perfect and pretty, the buttonholes were small but colours perfect, the arrangement in the hall and on the tables were too lovely, just how I had wanted – thank you to Eva. The hairdressers were great, punctual and friendly and the hair on the day was perfect, thank you to them. The photographers and team were wonderful, took many many pictures so we look forward to seeing them soon and then can thank them properly, I have emailed them to say a thank you and ask when we will get the photos and video too. The reception went very well and the staff and team at the hotel were so friendly and couldn't help us enough. A big recommendation and thank you to them.! Have I forgotten anyone please? Thank you lots and lots to you once again. Hope you are not working too hard there and all your other weddings are going perfectly too. Take care, best wishes, PS. Our honeymoon was fabulous, we had such a lovely time, we returned to the UK late last week and I am now back at work and day dreaming of our beautiful wedding day.!
Gail and Andrew"
---
Certaldo
Anna and Evan - September 16th, 2005
"We're on our honeymoon in Greece right now but we wanted to write you to let you know our wedding was PERFECT and we are so happy!! Thank you for everything you did to make it a wonderful day for us! We look forward to seeing Domenico's photos - he was so wonderful! We had a great time working with him. :) Thank you so much for an amazing perfect wedding!! Ursula was wonderful, the guitarist was amazing (he made me cry, his playing was so beautiful), the food and the waiters at Osteria del Vicario were out-of-this-world. Our guests were in heaven. Our cake and the flowers were first-class..... THANK YOU THANK YOU THANK YOU!!!!!! We will be happy to be references for you!
Anna and Evan"
---
Siena
Hilary and Justin - September 3rd, 2005
"Had a fabulous time it was all perfect, Theresa was brilliant. Siena is a fantastic place to stay and the surrounding area is very beautiful. I would definitely recommend Siena town hall for the wedding ceremony. It is perfect, very grand with all the fresco's and the room is just right for an intimate wedding. The mayor of Siena was very nice and he said some kind words and persented us with replica coins as a memory of our ceremony. It was thunder and lightening during the ceremony but I was told this is lucky for the bride. The flowers were perfect and the interpreter was very good, a very nice person and made us relaxed when we met her on the friday and went through all the documents.. Nannini was good, the service was slow and there is no air conditioning in the seated area at the back. It might have been better just to stand at the front of the cafe for some drinks. We went to Radda and Castellina to see the town halls there and Siena was definitely the best option as you recommended to us. We would be happy to recommend your service and provide information by email to any couples interested in Siena for their wedding. Thank you for all your help.
Hilary and Justin"
---
Sorrento
Rosy and Mark - September 2nd, 2005
"Both Mark and I would like to thank you for our truly amazing Wedding in Sorrento. All our friends and family commented on the fact that it was the best wedding they had ever been to! Impressions of Sorrento - It is definitely a stunning place to get married. The scenery is beautiful. The Cloisters is a magical place to wed and the service, view etc at the Hotel. Everyone involved in the wedding provided an excellent service. Thank you to you Michela for all the help with the preparation. You really listened to what we wanted. Also a big thanks to Giovanna who was very professional and reassuring on the day. She made our service feel very special (especially as I had watched a few other weddings at the Cloisters and the translators were very cold) The photographer was great, music great, food and cake (everyone commented) was excellent. Hair and make-up was excellent too. Flowers were beautiful too. Much nicer than all the other brides! The only downside on the day was we had to organise and pay Euro 300 for a horse drawn carriage for myself, mark and bridesmaids to and from the Cloisters. Even though it was a short distance, I did not want to walk in the heat and it looked much nicer with me arriving by horse rather than foot. I think you should include a transport service even if couples have to pay extra. However, these were all minor things on the day, but just thought I'd let you know for the future. Overall we had a fantastic day, which was enjoyed by everyone and yes we would highly recommend Romeo & Juliet to other couples. We would be happy to act as a reference.Thanks again to all involved.
Rosy and Mark"
---
San Gimignano
Sian and Richard - August 25th, 2005
"Thank you so much for all that you did to make August 25th so special for us both. Everything went so smoothly and as planned - even the blue skies returned to Tuscany around about 4pm!!!
All the paperwork element was dealt with extremely efficiently by you and the company - it was easy!!! Teresa was excellent in all that she had to do. Her interpretation and translation was done in such a lovely way - it felt part of the ceremony. The Mayor was great - a warm smile and a twinkle in his eye. He really made us feel special. Marco the photographer was very good too - he responded to us and our wish for it all to be quite informal. The harpist was great - playing whilst my mum read her Shakespeare sonnet was very moving too. All in all it was superb service from Romeo and Juliet and we just want to say a big thank you to you all. One question - would it be possible to have a copy of the words of the ceremony - the English translation? The words are so good and elegant. We will miss your lovely and personal emails. Quite simply thank you for enabling us to marry in such a special and memorable way. We will certainly know where to visit for our anniversaries - the first one has already been talked about!!!.
Sian and Richard"
---
Amalfi
Melissa and Jonathon - July 19th, 2005
"Oh Michela, I am so sorry it took so long to tell you "Thank You!" It was truly an incredible day. I would not have done one thing differently. The staff at Hotel were so sweet to us. Everyone from Giovanni the hotel manager, to Mauricio the waiter in the restaurant made our stay like a fairy tale. After our ceremony, the gentlemen working the front desk arranged for a boat to pick us up literally right outside of our suite. When getting into the boat, I tossed my dress shoes into the boat and one fell into the sea. I didn't give it too much thought but when we returned, the life guard Jose pi had snorkeled and found it. Every one was so sweet and kind. My only regret was leaving Amalfi. The landscape looks like a painting.Then the floral decorations were exactly what I wanted. It was breathtaking and so are the photos Massimo shot. So Michela, I have to thank you from the bottom of my heart for planning this all for us. I would love others to experience what we did at that magical place.
Melissa and Jonathon"
---
Ravello
Alison and Perry - July 19th, 2005
"Hi!!
We are back from Kenya, and I finally have time to write and say THANK YOU for the best wedding ever! We loved everything about it- the makeup, hairdresser, flowers, officiant, photographers, FOOD, etc, etc. We would be honored to have our photos on your website, and also would be happy to be references for you. We would also be interested in the special area on the website... Photos are wonderufl and artistic and beautiful.(but my face looks horrified in a few of them! is this a normal face for a bride? :)
THANK YOU!!!!! I still look back at our wedding with such happiness because of you! All my love,
Alison and Perry"
---
Atrani - Amalfi Coast
Michelle and William - July 19th, 2005
"Well, we have landed back in cold, rainy London! I am trying to remember why I left Italy... The first thing I have to say is how incredibly grateful my husband (still can't believe it's true!) and I are to you, Giovanna and Daniela and all at Romeo and Juliet for making our dreams a reality. At every stage you have been there to give us advice, organize everything swiftly and professionally, and at every moment we feel that you gave us just that little bit of extra attention to detail that made our wedding so magic. I have already recommended without hesitation someone to your company who was thinking of marrying in Italy. Our day was so beautiful, and it ran so smoothly! We loved the fact that the Italian laws of marriage place so much emphasis on the importance of family values, equal decision-making and respect. We all felt that Giovanna's warmth and Amalfitan charm made our translated civil ceremony more romantic and heartfelt than we could ever have hoped.
Once again, the most heartfelt thanks for everything that you have done.
Michelle and William
---
Siena
Victoria and Gavin - June 16th, 2005
"Thank you very much for making a special day possible. We loved siena and are so pleased to have chosen there as it will be a wonderful place to go back and celebrate, and there can be nowhere more romantic than the palazzo pubblico as a venue for a wedding. the translator made it all so much easier and was very useful. The photographers were very good and we cant wait to get the photos. Once again thank you very much for everything.
Gavin and Victoria."
---
San Gimignano
Natalie and Shayne - May 24th, 2005
Finally have a moment to write to you and let you know our thoughts on the wedding. We truly had a fairytale wedding, everything was perfect, the atmosphere was amazing on the day. People clapping and congratulating us in so many different languages. The wedding Hall was so beautiful, but I guess when you are surrounded by 12th Century art, you really can not go wrong. The service was beautiful. The room was filled with Music that was played by a solo violinist. The photographer was extremely patient with us, and very creative. Our reception was Amazing, I have never felt so much love in a room. Every effort was made to make us feel truly special, we shared our cake with everyone in the restaurant. Two little girls made a drawing for us that said Good luck with a picture of S.G in the background. We are so happy with the service that you provided us, and the constant help. You always put us at ease whenever we were worried. I was expecting something to go wrong on the day, but it was perfect. Therese was so beautiful, she is so sweet and helpful, her accent is delightful! Thank you for making our day magical and possible
Love Natalie & Shayne Connell xoxox"
"We are more than happy to be references for your service and tell anyone who is interested how helpful you have been and how wonderful our wedding was as a result of your organising! So put our email on the list for sure!"
---
Greve in Chianti
Joanna and Kristien - May 18th, 2005
"Well, what can I say?
Our wedding was fantastic "thank you" very much. It all went very smoothly & was completely stress free, just what we wanted. Both of your staff were lovely & very helpful (particularly Veronica), as we managed to get a parking ticket on our Wedding Day & she tried to get the man to let us go with out paying, but he wasn't having any of it & just shook Kristien's hand & said "Congratulations"!!!!!!!!! Greve was such a beautiful place to marry & we would certainly recommend it & your services to anybody. I have fallen in love with Tuscany, it is such a picturesque region. I have always wanted to visit Florence, but was actually more taken with Siena, how gorgeous it is. We are planning to return on our 25th Wedding Anniversary!!!
Love from Joanna and Kristien & Oliver xxx"
---
Tivoli
Teresa and James - May 14th, 2005
"Good afternoon Michela,
Back from Tivoli and now happily married. Both myself and Teresa would like to thank you for everything you done for us, the wedding, the hotel, the reception, the photographer and Tivoli itself were all perfect. Look forward to hearing from you. Yours,
Theresa and James"
---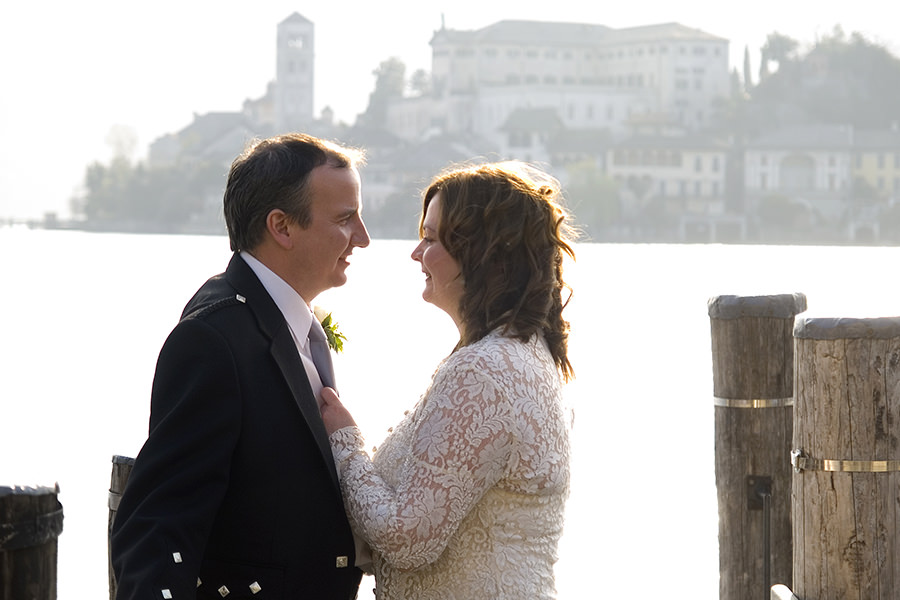 Orta Lake
Louise and Mark, April 4th, 2005
"Mark and I are now back home and back to work. We were very sad to leave Lake Orta after having such a wonderful wedding day. Everything was perfect, we loved the harp's melody during the ceremony, the flowers were elegant and the food great !!!!!! Thank you again for all your organisation beforehand and on the day. We would be happy to act as reference for any of your future clients.
Kindest regards Louise Robertson"
---
Taormina
Stephanie and Mike, April 2nd, 2005
"Dear Loretta, We wanted to say thank you so much!!!! Our wedding was more beautiful than either of us could have possibly imagined. You were so kind, generous with your time and extremely helpful and professional throughout the entire process. Because of you, planning a wedding from 6,300 miles away was easy! Every detail of the wedding was planned to perfection. You are fantastic! Grazie again for everything. Stephanie "