Florence
Wyanet and Stephen - November 18th, 2006
Hello Marco!
Thank you again for all of your help with our wedding! I'm actually not sure how it could have gone any better. Everyone involved (the hairdresser, photographer, wedding coordinators, translators)was very professional and helpful. Theresa handled the Atto Notorio perfectly. We really appreciated all the extra time that Ursula spent with us going over every detail of the wedding. She even escorted Wyanet to the hairdresser and stayed with her to make sure that Wyanet had everything done the way that she wanted.
And we can't say enough about Augusto – he made the religious ceremony very special!
Thank you again!
Wyanet and Stephen
---
Noto, Sicily
Gabry and Charles - October 17th, 2006
Dear Marco,
We are finally back in San Francisco, we got back to our apartment in the evening last night and after 24-odd hours of travel collapsed immediately. We both Woke up around 4am this morning and decided after not getting back to sleep to take a walk about until sunrise. We walked for blocks and blocks calling out moments we had experienced or meals we ate in Sicily...what a really wonderful time it all was. And the wedding was fantastic - it was fun and sweet and in the best possible way just a little strange. I so wish Charles and I could meet up with you for dinner and just tell you all the stories. :)
I really wish there had been some way you could have been at the ceremony and all the little moments we had along the way...you would have been so proud of yourself! You helped make something wonderful happen - I know that's your job, but you added the extra spirit and effort of a good friend and we will always cherish you for that.
That being said I hope you don't mind in the future if we write from time to time just to say hello. Also hope one day you will come to visit San Francisco for it would be our pleasure to show you around.
Our warmest regards,
Gabry and Charles
---
Florence
Julide and Osman - September 23rd, 2006
Hi Michela,
I am sorry I am late but after coming back to Florence I went to the south of Turkey for sea and sun. Last week I have startes working:(( now my wedding has finished. I would like to start from the beginning, I would like to start walking to table again ....::)) How are you?
I want to thank you for everything. There was no problem. Everything was perfect. The Villa, menu etc etc everything. You totally understood my point of view and to work with you is very great. I was very lucky. Thank you million times to you. This was my very special day and there was no problem I liked it very much , guests loved it very much. Romeo and Juliet must be proud of you. If any person around me wants to get married in Italy or wants to make an organisation like that I will of course say your name. Thank you very much. If you come to Turkey do not hesitate to call me.
Lot of kisses and thank you very much again...
Julide and Osman
---
Città di Castello
Hero and Craig - September 18, 2006
Marco,
Thankyou so much for all your help and support throughout the planning of our wedding.
From locating the venue, to finding the best caterer, florist, hairdresser, harpist not to mention to your hospitality when we visited before the wedding, to your help and advice on finding local accomodation for all our guests, to your good humour and professionalism in all those emails flying back and forth for all those months....although I'm still not sure you deserved to win the world cup ;-)
September the 18th, the day of our wedding went so well and all of our guests (of which there were 90) have described the day as a "fairytale wedding".
A compliment to the thought and planning you put in.
We would never hesitate in recommending Romeo and Juliet to anyone in the future and once again thankyou so much for all your help.
Don't forget to look us up next time you're in London ;-)
Hero and Craig x
---
Florence
Lauren and Loren - September 16th, 2006
Hi Michela!
It's great to hear from you....everything is wonderful, and everything went perfectly in Florence. Elisabetta was so sweet and funny and wonderful. Ursula was very helpful throughout the entire process and with the hairdresser too (we never would've made it through the trial run without her!). I would highly recommend your services to anyone getting married in Italy - it is such a fantastic experience. Whenever we think about it we just want to go back.
Thank you so much for everything!
Lauren and Loren
---
Lake Como
Katie and Gary - September 15th, 2006
Ciao Michela!
Hello my friend, I hope this finds you well. I cannot believe we have been home for nearly 3 weeks, I have sat down so many times to send this email and am determined to finish it this time!!! We arrived home to a lovely surprise - our families had decorated our house and were waiting to surprise us with a party! Its been all go since, with lots happening at work but all good.
I don't know where to begin. Thank you so very much for the most perfect day we could ever have imagined. I know that all brides think their day is special but I think ours was incredible, so magical and every detail looked after. We are so grateful to you Michela and are so pleased that we were lucky enough to have you looking after us. It was a spectacular day and one full of surprises - I couldn't believe the weather! It was as though we ordered the sunshine (I didn't realise you had so much influence over these things!!!) The villa couldn't have been any better, a stunning location though intimate enough to make us feel like it was a home from home. And what about the food! Pasquale and team were fantastic, everybody thoroughly enjoyed it and their attention to detail was brilliant. They were so much fun, joining in with the celebrations at the end of the night (we even got Pasquale on the dance floor!!!)
I was so grateful to you for organising the boat ride, it meant so much to me and I thoroughly enjoyed having the opportunity to spend time with my Dad to tell him how I feel about him. By the way, Mum and Dad also send a big cuddle - you have an increasing fan club back in the UK! The fireworks were great too, I wish you could have seen them though you probably could from Milan because they were so loud and lit up the whole sky. We danced until nearly 12 and had so much fun, at the end of the night Gary and I sat down on the pontoon and talked through the day - it was a lovely moment to savour everything.
So now we are getting back into the swing of things and it feels like an incredible dream. I have never felt so special as I did on my wedding day, the photos we have are fantastic, very much looking forward to receiving them from Elisabetta too - they have not yet arrived so can you confirm if they have been sent? - only because I hope the CD has not gone missing. I am sorry this is such a long message but there is so much to say! We will be forever grateful to you Michela, I appreciate that going through Romeo & Juliet was something we arranged but we could not have asked anything more from you - there are very few people in this world who do their jobs as well as you, and I hope like us it felt that it was not something we had commissioned but rather it was from a friend. I feel you know us so well and as such we were overjoyed with how everything was arranged. We will not forget all you have done and if you don't mind I will keep in touch to let you know how married life continues. The scarf was just something to show how grateful we were, it is not much but something to remember us by. Thank you once again so very much, you did not just make our day but everyone else's too. Do take care of yourself - and I look forward to catching up with you soon.
Lots and lots of love, very big cuddles from our families Love from Katie and Gary xxxxxxxxxxxxxxxxxxxxxxxxxxx
---
Portovenere
Alan and Jayne-Ann - September 15th, 2006
Dear Marco,
Everybody dreams of their wedding day being perfect. Of course, when you're planning the whole affair via phone, fax and e-mail from 7,000 miles away, 'perfect' is the furthest thing from your mind. Mostly, you're just worried if you'll have any sort of wedding at all: "This fella at Romeo and Juliet, he sure sounds nice, but does he really know what he's doing? Is Portovenere really as beautiful as he says? Will our paperwork be in order? Will the reception dinner actually be any good? Flowers, hairdresser, make-up artist, music -- has all this stuff actually been arranged? Will anyone even understand us, or know who the heck we are?"
Those were just a few of the concerns we had when we landed in Milan, just 90 hours before the big event. But soon enough, those fears were all put to rest. Our first stop was the American Consulate. We were met there by a Romeo and Juliet representative, and within 20 minutes, he'd gotten our papers signed, certified, and filed. Step one had gone perfect.
Step two took place the next day at Portovenere City Hall. A different representative met us there, but we had the same experience: fast, fun and done within an hour. Perfect. After that, the bride-to-be met up with the local hair and make-up team for a test run-through. Also perfect. On our way out of town, we checked our order with the florist. Also perfect.
At 5:00 PM on the following day, we arrived at Castello Doria. The ceremony took place right on schedule. It was simple, beautiful, informal, and even a little bit funny - everything we had wanted and more. After that, came the wedding portraits. The photographer, who was only scheduled for an hour, kept on shooting for nearly three. And the pictures - WOW! At sunset, we all went off to the restaurant that you had recommended. What followed was one of the best meals of our lives. The wedding cake was sheer heaven.
Yes, thanks to you, everything had been absolutely dream-perfect. More than perfect, in fact. You see, on the day before our wedding it had poured rain. It rained on the day after. But for the day of the ceremony, the sky was brilliant, sunny, and blue. How you managed this we shall never know.
Thank you, Marco, for making our wedding day divine!
Warmest Regards,
Alan and Jayne-Ann
---
Portovenere
Vicky and Cormac - September 9, 2006
Dear Michela
With regards to the wedding and whole organization what can we say apart from FANTASTIC, OUTSTANDING, WONDERFUL!!!!
We truly cannot find fault in any aspect of your service, all our questions were replied to in the most friendly and efficient manner prior to the date and over the weekend of the wedding the organization excellent. Please send our gratitude once again to Lorenda who was really great and made us feel so relaxed.
The florist was great, we managed to understand each other eventually with my very limited Italian and the flowers could not have been more perfect. We await the photographs eagerly but once again the photographer was lovely and kept apologizing for his lack of English when we should have been apologizing for our lack of Italian language! Portovenere is the most stunning location for anyone to marry and as you know we had visited many times before but I would happily recommend any couple there even if they have never visited Italy (infact you may be getting contact from another engaged couple I know shortly!). We had a wonderful meal in La Locanda and the owner Steffano was great and the wine and food kept coming, our guests had never seen anything like it as most had never visited Italy and are all planning a return trip next year.
We would feel honoured if you wanted to use our picture on your website and if you need any direct references please do not hesitate to contact us.
Michela THANK YOU FROM THE BOTTOM OF OUR HEARTS for everything, you make the whole experience personal and easy.
Love and Happiness Vicky and Cormac
---
Ossuccio, Lake Como
Clare and Bill - September 6, 2006
Hi Michela
First of all, thank you so much for arranging our wedding. The whole day went perfectly and everything ran very smoothly. We were lucky to have a fine, sunny day. We very much enjoyed the restaurant in the evening. It was good to meet Loretta and Ilenia, who were very warm and friendly. Please pass on our thanks to them.
Kind regards
Clare & Bill
---
Verbania
Susanne and Hossein - September 1st, 2006
I want to thank you for our beautiful wedding. Everything was wonderful: the music, the flowers, the car, the Wedding Hall, our boat cruise, and finally the exceptional dinner.The kindness and welcome we received from everyone that you introduced us to is what made our wedding day truly special.
We would especially like to thank Anna for all her help, Massimo for my great hair and make-up, Angelo and his partner for their enthusiasm, and the Vice-Mayor for his thoughtful message to us on our wedding day.
Verbania is a beautiful town, and the Wedding Hall is everything we imagined it to be.We were very lucky to have a perfectly sunny and warm day to celebrate our wedding. Hossein and I hope and plan to return to Verbania to celebrate anniversaries in the future.
We are sorry that we did not have a chance to meet you in person; however, we very much enjoyed receiving your wedding telegram.
Michela, thank you again for all your planning and arrangements on our behalf. Everything was very well done!!
Kind regards,
Susanne and Hossein
---
Cortona
Elaine and Colin - August 31, 2006
Dear Michela
We have just returned from honeymoon in Cortona and Sirmione and couldn't wait to thank you for everything. We had an absolutely wonderful time and our wedding day was very special. Please thank Marta for us. She is a lovely girl and couldn't have been more helpful. Elisabetta was a pleasure to work with, so please thank her as well and tell her we are looking forward to seeing the photographs. I think she enjoyed herself as much as we did!
The ceremony itself was lovely. They even had prosecco for a toast afterwards and gave me a beautiful bouquet of red roses and a scroll to commemorate our wedding - it was very moving.
All the transport arrangements worked out beautifully with everyone arriving on time and the wedding reception was glorious. We have never eaten or drank so much in one day in our lives! We couldn't praise La Corte dei Papi staff enough, they were wonderful and we wouldn't hesitate to recommend them to anyone.
We can't thank you enough Michela and would just like to say again that without your help we couldn't have had a more wonderful wedding. All of our family and friends who were there said it was the best wedding they had ever been to. If anyone wants to contact us direct to confirm anything feel free to give them my email address.
All the very best for the future. Lots of love.
Elaine and Colin
---
Certaldo
Yvette and Ben - August 23, 2006
Hi Michela
The wedding was fantastic! The weather was great and the venue was perfect. We really enjoyed our day - relaxing in the pool in the morning and getting married in the afternoon. Elisabetta was really friendly and even helped out when we had a near disaster. My dress was very creased from shipping and everyone helped to iron it. The flowers were lovely although I wished I could have brought them home. The informal restaurant that we chose with your help was lovely. We managed to meet the owner the day before to run through things. Unfortunately though there was so much food (which was delicious) and we all felt bad about leaving so much. The interepreter was really nice and helpful as well. The violinist did play the music we chose and ave maria together with the poem my father read had everyone in tears!!
Thank you for your help.
Yvette and Ben xx
---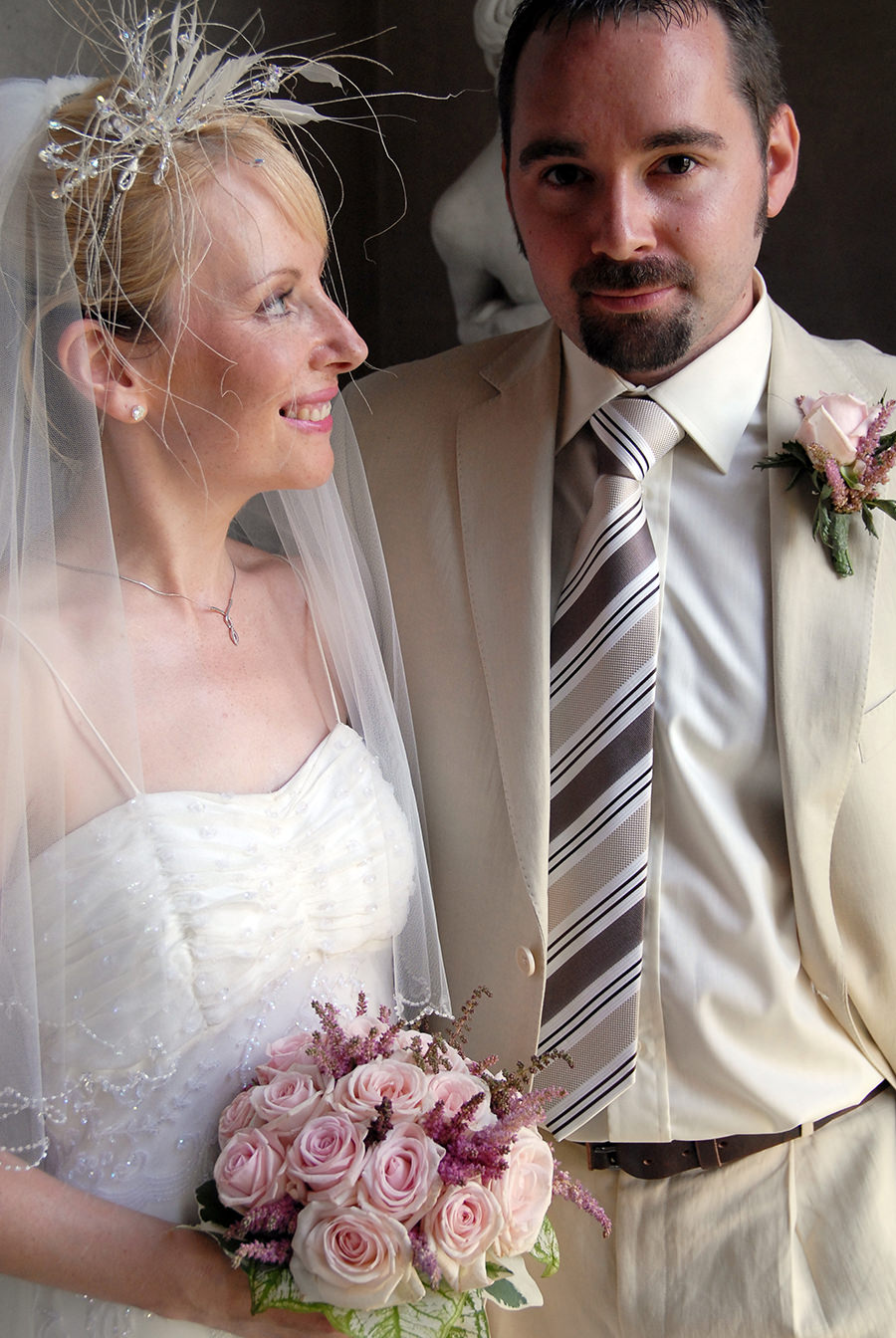 Verona wedding
Rachel and Simon - August 17, 2006
Dearest Michela,
Thank you for making our wedding day perfect, we had a truly wonderful time.
We are gradually getting used to 'normal' life again, back in England, after such a wonderful time in Italy.
I will write back in the next day or so, to let you know how things went in more detail.
With much love
Rachel and Simon
---
Taormina
Sarah and Stewart - August 16, 2006
The day was perfect, the location was beautiful and it was a moment we shall never forget. Thank You for all your work and answering our numerous question quickly an professionally.
Roberta was extremely friendly, helpful and during the first meeting put our minds imediately at ease due to her professional manner. One thing I might add was her mobile phone went off duing the ceremony which was unfortunate. However, we would not like to criticise her in anyway as she was extremely good.
Equally the photographer was friendly, professional and extremely patient with my mum getting in his way duing photo taking!!. We have absolute trust in him and we are assured the photo's will be beautiful.
The chauffer and violinist we could not fault in anyway and the evening reception was a perfect end to a perfect day. The meal, service and views were simply amazing and we would highly recommend Taormina to anyone thinking of getting married there. We will certainly return there.
The only minor suggestion I would make is it was slightly inconvinient to complete paper work before the ceremony in our wedding clothes. We nderstand this was due to national holiday's two days before our wedding but maybe in the future a alternative date should be suggested to the wedding couple as this took some romance of the day. However we would like to say this did not effect us from the day at all.
In reagrds to Romeo and Juliet, we have found you extremely knowledgable about the venue Taormina, you have provided great advice and have been pompt in responding to our questions which is extremly important when correspoding over email. . During the build up to the ceremony we never had any doubts about the day as your pofessional approach allowed us to put compete faith in you on such an important day for us.
Thanks once again. Sarah and Stewart
---
Verbania
Paula and Stephen - August 11, 2006
Dear Loretta,
Words cannot express what an absolutely fabulous time we had on our Wedding Day, it was more than we could have ever wished for. Lake Maggiore was the most beautiful place ever and we are so pleased that you helped us choose it.
Everything went so smoothly and all the services that you employed were great. Anna the translator was a lovely lady who helped us to understand all the legal parts of getting married the day before the wedding. She also helped the photographers on the day of the wedding so that they could get all the shots they wanted - I just got pampered by all my friends and drank champagne while they took pictures of me getting ready for the big moment! The Wedding Hall was stunning and we couldn't believe how beautiful it was, the views were amazing! The Grand Majestic Hotel was a gorgeous hotel and they were also absolutely brilliant - all our guests commented on how lovely it was and said that it was the best wedding they had ever been to!
We are so sad to be back home in rainy Plymouth as Italy is such a wonderful country and we had a fantastic Honeymoon. We had a bit of a rest on the day after our wedding at the beautiful Grand Majestic enjoining a massage, romantic boat cruise around Lake Maggiore and then headed to Lake Garda for a relax by the pool and then onto Venice which was like nothing I have ever seen and totally took my breath away. We came to Verona for the day as you suggested and visited the Arena and Juliet's balcony etc! We really fell in love with Verona and will definitely be back for a longer holiday there. We then came back to Milan for a couple of nights and it was also lovely if not somewhat closed!
We cannot thank you enough for all your help and how easy you made it for us to have our wedding in Lake Maggiore.
Thank you so much again and also for your lovely reading that you sent to the hotel - it was beautiful.
Kindest of regards,
Paula and Stephen
---
Bellagio
Ruth and Mike - August 10, 2006
Hello Michela!!! We are loving married life and the honeymoon. Milan, Bellagio, Venice, Florence, Pisa, Roma, Sorrento, Paris and now I'm e-mailing you from London. Everything wedding and honeymoon have been wonderful! It was great meeting you and you are just as kind in person as over the phone! We can tell you everything went perfectly and will be glad to talk to anyone if you need a referral. You and your company did a fantastic job! Thanks! We were a little worried being so far away, but we figured we were going to be happy no matter what happened if our expectations weren't reached we decided not to worry, but you EXCEEDED our expectations and went far beyond what we could ever dream of. It was a fairytale wedding and we wish we could do it again. We will email you about everything and all details now that we are settled in our house and back to work we can finally think again and remember the great time we had. Thanks Michela you were great! And the pictures were fantastic!! Love and Thanks
Ruth and Mike"
---
Portovenere
Hilde and Morten - July 14, 2006
Hello! We are back and we are very fine thanks to You and Your company...Our wedding day was outstanding and a memory for life.Just the way we wanted it to be..
Thank you very much for all the arrangement you made for us! It was all great.
If we were to say one thing,it would have been nice to have known that the only way to the castle was by foot.. But the location was stunning. We hope that the pictures will be good.
If some of Your future clients is going to get married in Portovenere,You should recommend our restaurant. It is THE resturant for an elegant wedding. Superb food, nice location and a great staff.. Also our interpreter were very nice and helpfull. So at the moment we are just injoing our time as newly weds,and wait for the photos to arrive. In the future we will recomend Your company to anyone we know who wants to get married in a different way!
Best regards
Hilde and Morten"
---
Cortona
Lara and James - July 8th, 2006
Dearest Michela, Planning a wedding online is a bit scary. You are never sure what you are getting for your money. All choices are made from pictures, no face to face contact with a coordinator and wiring your money before leaving the country,but I have to say ......... Our wedding day was beautiful. Cortona was more enchanting than expected.The midevil town was perfect for our families to play while we attended to wedding details. The locals were helpful and kind, which made the experience that much better. We hope to return oursleves soon, so that we can play in Cortona and see all that it has to offer. The Church was a perfect choice.It was exactly what the picture portrayed... small, midevil, with simplistic decor inside. Getting married so far from home leads to having a tiny wedding party. Because of this, we wanted a small countyside church that would have a warm quaint feel and this one did. There were enough pews to comfortably seat 12 guest...lucky for us, we only had 12 guest. Everyone could see and hear the entire ceremony, making them feel a part. Pastor met with us just before the ceremony. He answered a few questions and set our minds at ease. Without a ceremony rehearsal and no prior knowledge, one tends to have many questions. And he did not seem to mind that I was wearing pajamas with my hair wrapped in a towel for our visit. During the ceremony, he was down to earth and sincere. He even found another pastor or priest to say a prayer in Italian ( a tiny request of Miguel's). His words were perfect and meant so much to the two of us. Afterwards, he visited with family members in the courtyard and remained for a few pictures. Elissabetta was a charm. She was unobtrusive, funny and seemed to enjoy herself which makes it feel like fun as opposed to a job. The videographer was there a short time but was very friendly...can't wait to see the film. The unexpected surprise of the evening was the guitarist. The reception was beautiful, the view, the delicous meal and of course ..the company. Gabriel how ever made it a festive event. Miguel's dad loves music and throughout the night had special requests. Gabriel was open to all his ideas and played them beautifully...classical as well as current pop. We danced, we laughed and we had a great time. Gabriel played two hours longer than planned and began to play southern (US southern)favorites that I would have never guessed he knew. He made the evening more memorable for all. Our wedding was perfect. Thank you so much
Lara and James"
---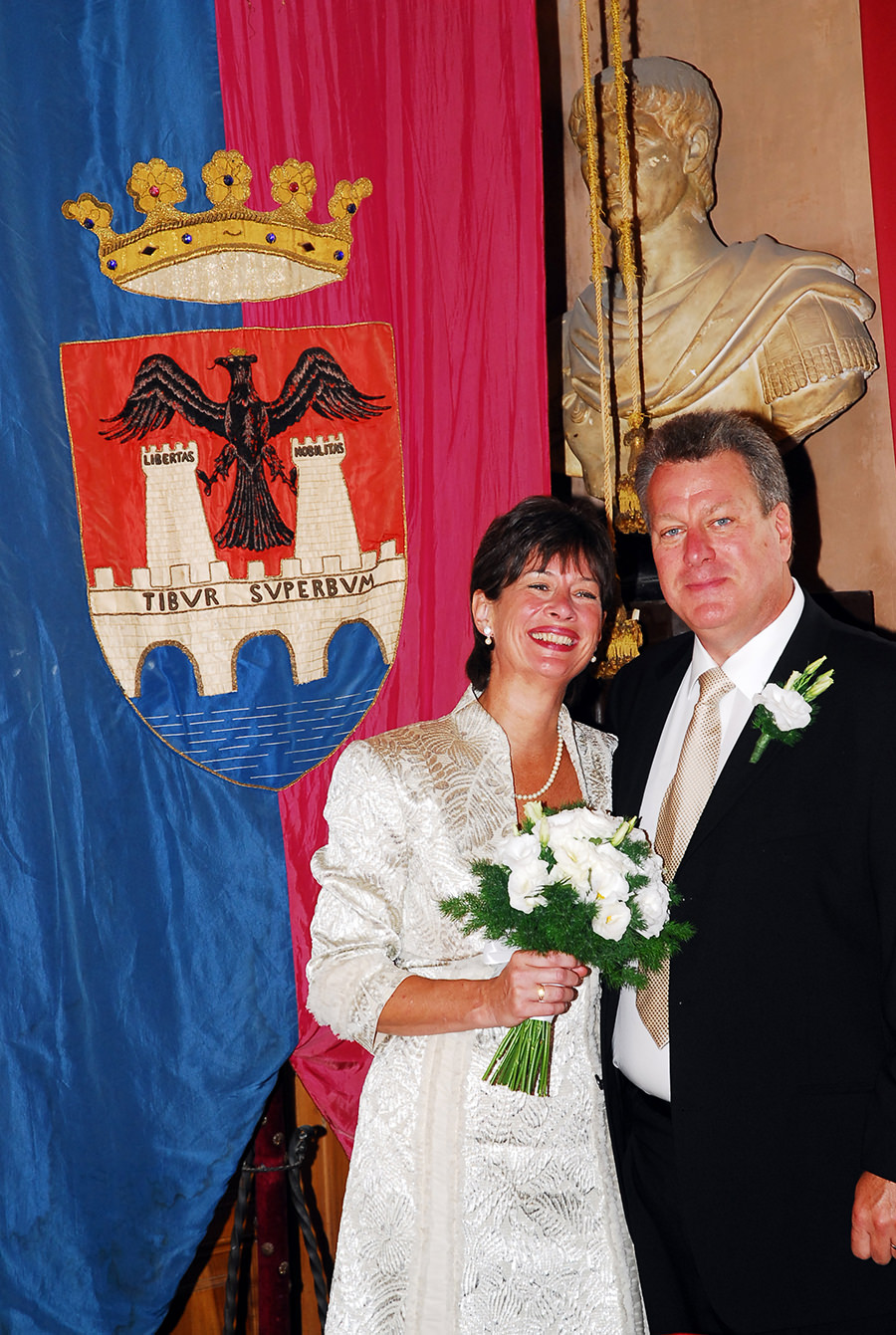 Tivoli
Kim and Bryan - June 30th, 2006
Ciao, My Dearest Italian Pen Pal, Thank you, thank you, thank you, from the bottom of our hearts. Our wedding day was indeed perfect, exactly as you promised. Loretta, you are truly a genius. Each and every detail was attended to beautifully, from our hotel room in Tivoli to transportation to and from Rome; from our lovely flowers (although Bryan's boutonnière did seem to have a quirky will of its own ;-) to the beautiful wedding hall and engaging ceremony; from the thoughtful surprise prosecco toast to our sumptuous luncheon at the charming restaurant Sibilla. You captured the spirit of the day flawlessly; it was exactly as we envisioned... simple, relaxed, and elegant. And making it all the more special was that you were able to attend! Our trips to Venice and Verona were great. Venice was not nearly as crowded as I've seen it in the past. Perhaps all the tourists were in Germany! The opera in Verona was, of course, fabulous... the performance of Carmen was wonderful, although I imagine it was not quite as skillful as Elisabetta's Carmen :-). We are now home happy and relaxed, and eager to see our photos. I hope your trip home was good. It was such a pleasure to meet your daughter (who looks like you – very beautiful) and her young friends. It must have been quite an adventure for them – I'm sure they had a great time traveling with you. Loretta, thank you again for everything. We could not have had this beautiful day without you holding our hands every step along the way. It is now a perfect, cherished memory. Grazie molto!
Kim and Bryan"
---
Rome
Maria and Steven - June 27th 2006
Hello my friend, Thank you for welcoming us back home. After the wedding, we went to Venice and Florence and then spent two more nights back in Rome before returning home. We had a very nice time throughout our stay, but the sun and the humidity was really exhausting and I didn't have my normal energy I usually have. I was very tired every night because we did so much during the day and even if we were out for half a day, the heat was too much for me. Now for my feedback on your providers. Wedding Designer: wonderful, pleasant, funny, organized, sincere and professional person that made it easy for me and my husband to plan our wedding in Italy. Thanks to you, our wedding was our dream that became a reality. If you ever need someone to talk to, don't hesitate to call on your buddy in the U.S. :-)
Pastor: Very personable, friendly and helpful. We are very happy he was able to be there with us and be our religious representative.
Venue: The ceremony and reception was wonderful. All of our guests enjoyed the meal and the beautiful view from the terrace. It was a great location. I recommend this terrace for anyone with a small party as they will not be disappointed. The one thing that didn't make it absolutely perfect was the heat. I didn't feel beautiful because I was sweating and my hair was falling down. I also couldn't eat much because I was too hot.
Wedding Coordinator:Daniela was extremely helpful and guided us throughout every step while she was with us. She provided answers to every question we asked her. Very nice person.
Makeup Artist: Even though I was very hot, I thought my makeup looked great. She did a wonderful job with my eyes and the makeup continued to look great all night.
Suggestions: For wedding with guests and a formal ceremony, I think it would be a good idea for some type of rehearsal of the ceremony. Steven and our guests were a bit confused in the beginning of our ceremony as to who should be where. Meeting with the Pastor beforehand was a great idea as he can get some good information about us to share with our guests during the ceremony. Couples marrying in Italy should think about renting cellular phones. We are so happy we rented them as we were able to contact people when we needed to. Hotel Sofitel is our favorite hotel. Steven and I cannot believe how helpful and kind and generous their staff were to us. The rooms and breakfast is fantastic. I think that is all I have for now. If I think of anything else, I will let you know. I have to finish folding my clothes and cleaning our house before our guests arrive. Ciao for now. Very grateful,
Maria and Steven"
---
Lake Orta
Ilana and Greg - June 23rd, 2006
Hi Michela Hope you are well. We got back from honeymoon on Saturday. Thankyou again for all your help in our wedding. We are still smiling from the wedding & honeymoon – we had such a wonderful time. All the guests have been talking about what an amazing time they had too. I will write a longer email soon about the whole wedding.
Ilana and Greg"
---
Verona
Kim Marie and David - June 17th, 2006
Hello Marco (my superstar!!)
Well we are back from our wedding in Verona, safe and sound in sunny old England and today is the first day of sitting back at my computer. BORING!
Firstly, I want to thank you from the bottom of my heart for making our day soooo "PERFECT".
I will be honest and say I was a little apprehensive when booking a Romeo and Juliet planned wedding as we put our special day into your hands and had only a small amount of control with our choices. But as I have said to all my friends and family, I will never doubt or criticize anyone again with regards to a Verona wedding planner or overseas wedding, it was definitely the best wedding we've ever been to and ALL of my friends and family agree.
Marco, we owe our day to you as your great planning made our day fantastic, perfect and so memorable. So a big thank you, you deserve a medal and I wish many more wonderful weddings in Verona in the future.
Kim-Marie and David
---
Lake Como
Kelly and Mark - June 17th, 2006
Well we did it!! After all of the many months of planning, our wedding has happened and it was a success by all accounts. I wanted to say thank you very very much for all of your hard work helping us get there. It was quite an emotional time so I'm sure I was a 'case' when you met me on the day when really, I would have loved to have had a proper chat. The day went exactly as I had envisioned. From the photos and video footage I've seen, I'm actually astounded at just how STUNNING everything was. Like WOW! The Villa's setting on Lake Como is idyllic. It takes your breath away to see it transformed into a wedding venue complete with fairy lights in the evening –well done on that one! My guests have given rave reviews for the caterers, who were professionals throughout the evening, despite the Italy/US game on the same night. The food was delicious, the music was romantic and the evening flowed so smoothly that it was over before I knew it. Cliché, I know, but I also have some wonderful memories not captured on film that I'm cherishing right now. Italy is such a romantic place to get married –we're so very lucky to have been able to do it and once again, thank you for helping us to make it possible. All the best, Mark & Kelly p.s.: WELL DONE ITALY IN THE WORLD CUP! It was very exciting to watch last night and Mark and I were of course cheering them on (for sentimental reasons). I'm sure Italy went crazy with excitement last night.
Kelly and Mark"
---
Certaldo
Alexandra and Alexander - June 9th, 2006
Ciao Michela, Come e sta? Italy was the most wonderful experience and so was the wedding! Thank you so much for all your help and assistance, the day ran very smoothly – Certaldo is as beautiful as we'd hoped. All your suppliers were fantastic – they all gave that little bit extra to their service and seemed to really care that it went well. Everyone at Osteria was brilliant, and the food and wine was spectacular. Gabriella at the hairsalon was so, so lovely and did my hair and make-up beautifully – I would highly recommend her to other brides marrying in the area. As for Gabriel the guitarist, well, he was so amazing that we wished he didn't have another gig to go to as we would have loved him to party on with us and our band. Do you know where we can buy CDs of Gabriel's music? Do check out our band Greg Soussan online http://www.greg-soussan.com/, other brides might like to book him too as he's very up and coming and his music is funky (he does all covers too). The photographer Elisabeta was really lovely too, although I was a little disappointed that she arrived an hour early at the villa, and so left an hour early at the dinner, missing the toast photo opps. Anyway, thanks again for absolutely everything you did for us, we certainly started married life in the best way possible. Should you need any recommendations from us for your other married couples-to-be, do not hesitate to get in touch.
Alexandra and Alexander"
---
Pisa
Lorraine and Michael - May 13th, 2006
"How can Michael and I thank you enough for helping make our wedding day perfect. I feel as if you have become a friend over the last few months answering my many emails always in a helpful manner - I could almost see the smile on your face. Everything went perfect on the day and yours and Marco's help was invaluable. I was really impressed with the officials in Pisa who seemed genuinely honoured that we had chosen Pisa to get married in. The room was magnificent and our very personal ceremony meant there were many tears of joy at the end of it. The day carried on until 3 in the morning (yes, even through the rain) and everything at the reception was also perfect. All our guests said they had never attended a wedding like it and probably never will.
Lorraine and Michael"